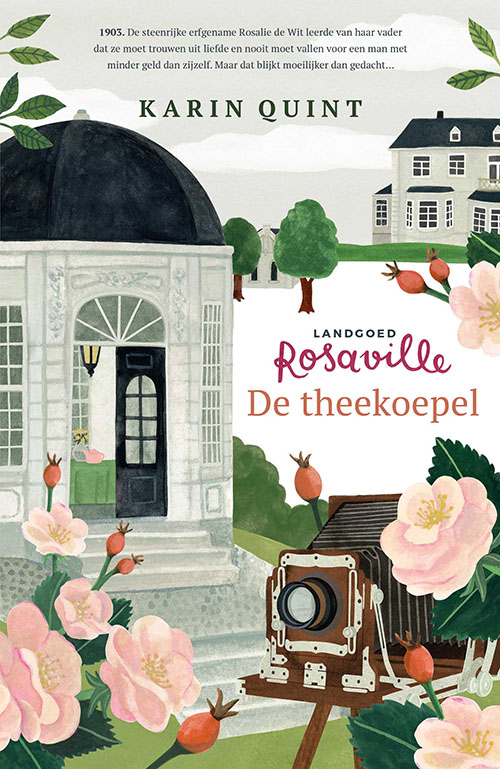 De theekoepel
Landgoed Rosaville, 1903. Rosalie de Wit houdt een feest in de tuin van Rosaville. Na de dood van haar vader is ze vanuit Engeland naar Nederland vertrokken en heeft ze haar intrek genomen in de schitterende villa die haar vader ooit voor haar moeder liet bouwen. Met het tuinfeest viert Rosalie dat ze een jaar in Nederland is. Ze huurt de gedreven en enthousiaste fotograaf Arris Nauta in om het vast te leggen. Al meteen voelt Rosalie zich tot de fotograaf aangetrokken, maar ze houdt zich aan het advies van haar vader: val nooit voor een man met minder geld dan jijzelf.
Ondertussen heeft zich in de omgeving van Landgoed Rosaville een nieuwe buurtgenoot gevestigd: de charmante fabrikant Jonathan van Bredevoort. Rosalie valt als een blok voor hem en hij lijkt de ideale huwelijkskandidaat. Maar is hij wel de man die ze denkt dat hij is?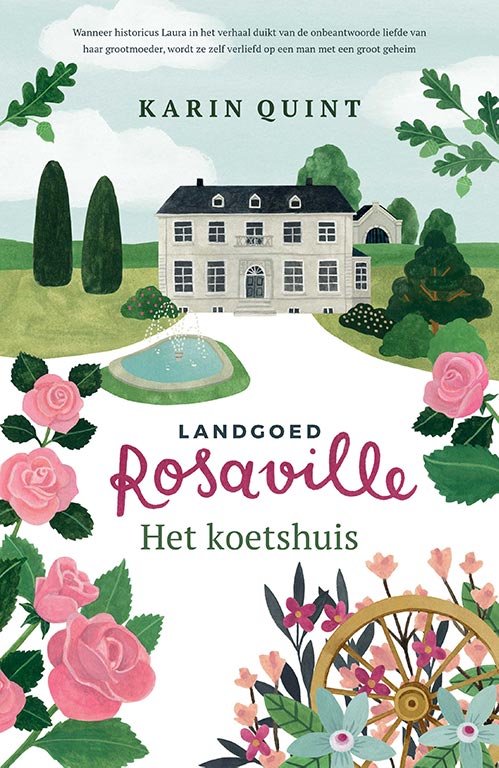 Het koetshuis
Welkom op Rosaville, een Nederlands landgoed vol romantiek, geschiedenis en geheimen.
Historicus Laura is gefascineerd door het verleden. Niet vreemd voor iemand die opgroeide op Rosaville, een landgoed met in ieder hoekje een verhaal. Wanneer haar dementerende grootmoeder een onbeantwoorde liefde opbiecht, duikt Laura in de geschiedenis van het koetshuis op het landgoed. Waarom was die plek zo belangrijk?
Net zo nieuwsgierig is Laura naar het verleden van televisieproducent Tom Boyard, voor wie ze een persoonlijk archief uitzoekt. Hoe meer ze over Tom te weten komt, hoe meer ze zich tot hem aangetrokken voelt. Tot haar eigen liefdesverhaal wel heel veel op dat van haar oma gaat lijken…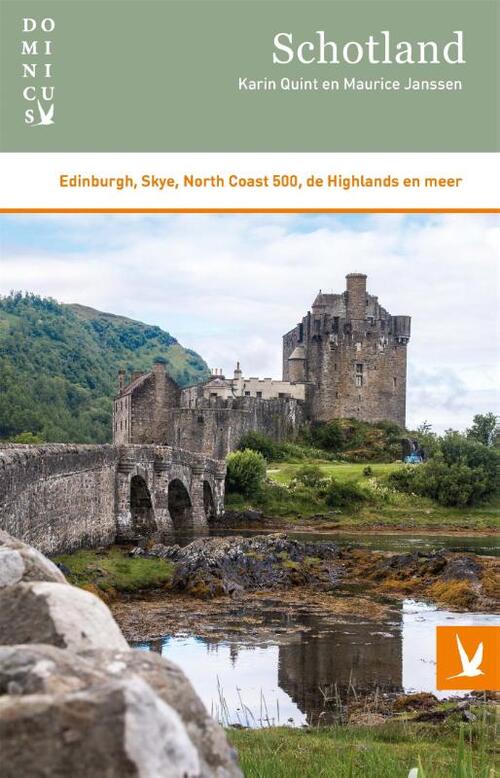 Maak kennis met het zelfbewuste Schotland en zijn bewoners. Verwonder je over wat als een van de mooiste en afwisselendste landschappen ter wereld wordt gezien, met prachtige meren, valleien, heuvels en bergen. Wandel door de woeste Schotse Hooglanden of verken de ongerepte natuur van de eilanden aan de noord- en westkust. Ga op stedentrip naar Glasgow, de grootste stad van Schotland, of breng een bezoek aan Edinburgh, een stad met internationale allure, mede door de jaarlijkse zomerfestivals.
Naast alle bezienswaardigheden en achtergrondinformatie vind je in deze gids veel praktische tips om een reis naar Schotland onvergetelijk te maken.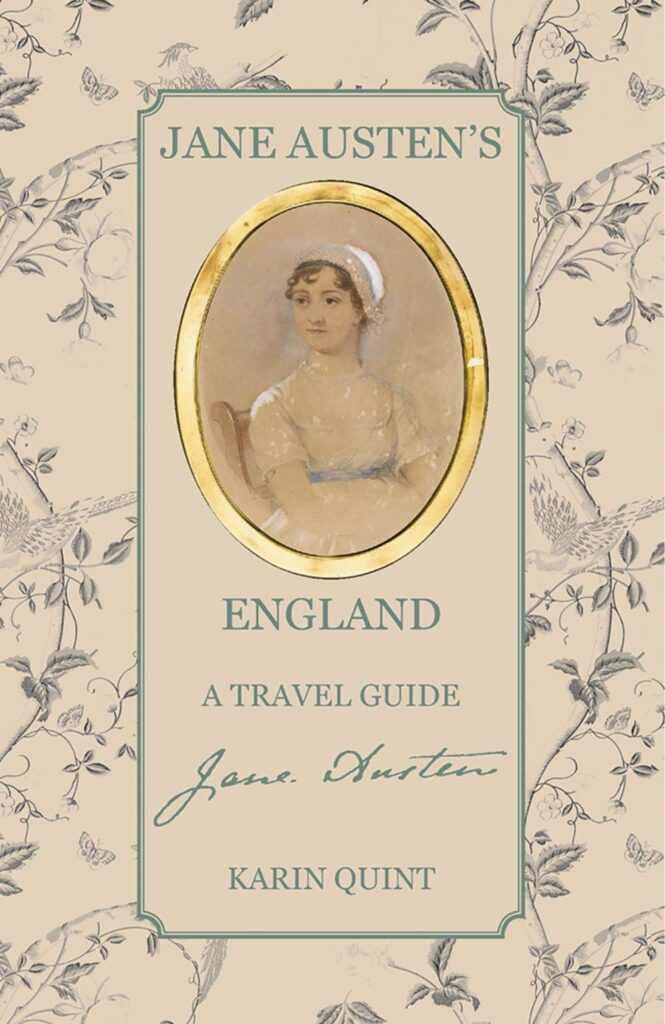 Jane Austen's England: A Travel Guide
Walk in Jane Austen's footsteps with this unique travel guide – the first book to explore England in relation to its most beloved Regency author. Rambling across the rolling fields of Hampshire, along the bustling streets of London and around the golden crescents of Bath, Jane Austen's England is the perfect companion for any Janeite planning a pilgrimage.
Functionally arranged by region, each chapter tracks down the most iconic scenes from both the big and little screen, as well as the key destinations where Jane lived, danced and wrote. Descriptions of each location are interspersed with biographical anecdotes and local history. Subsections focus on various stately homes that have been featured in every adaptation of every novel, from the beloved Pride and Prejudice television series (1995, Jennifer Ehle and Colin Firth) to Pride and Prejudice and Zombies (2016).
With a compilation of websites, seasonal opening hours and tour details, this compact book contains everything you need to immerse yourself in Austen.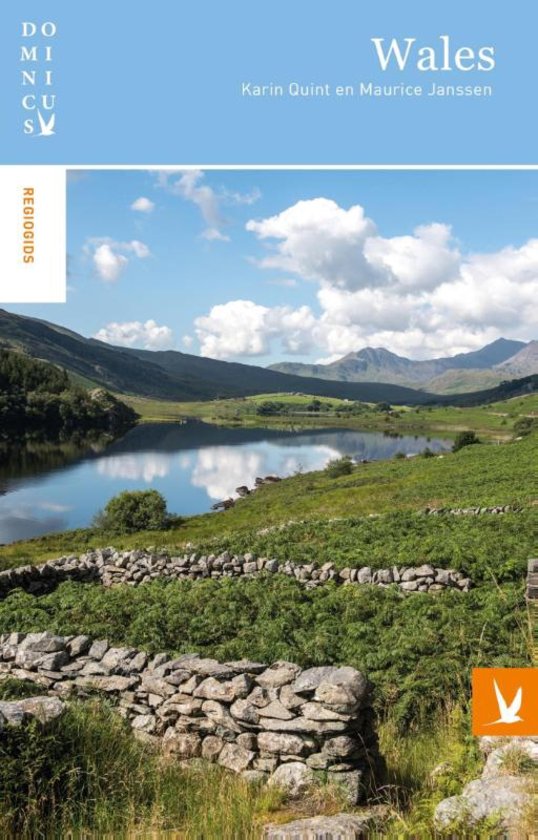 Van de vier landen die samen het Verenigd Koninkrijk vormen, is Wales voor velen het onbekendst. En dat is onterecht!
Neem alleen al de honderden kastelen, kloosters en prehistorische monumenten die het land rijk is. Samen met een indrukwekkend industrieel erfgoed en de oeroude taal brengen ze de geheel eigen historie en identiteit tot leven.
Ook heeft Wales een spectaculaire natuur. Naast een prachtige kustlijn vol besloten stranden, brede riviermondingen en woeste kliffen heeft het adembenemend mooie heuvel- en berglandschappen.
Hoofdstad Cardiff ontpopt zich met zijn National Museum, Millennium Centre, overdekte winkelpromenades en herontwikkeld havengebied intussen tot een aantrekkelijke bestemming voor stedentrips.
Croeso i Gymru! Welkom in Wales.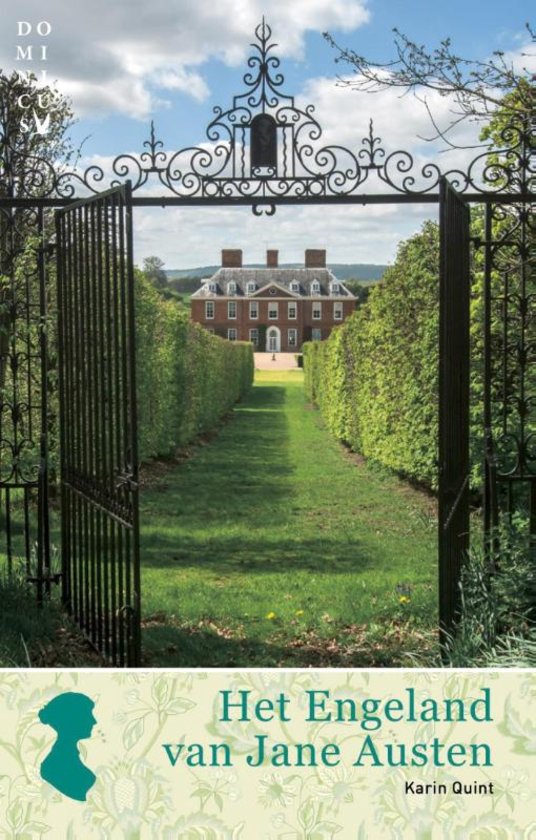 Het Engeland van Jane Austen
In Het Engeland van Jane Austen vind je de plekken die belangrijk waren voor Jane Austen; de plaatsen waar ze woonde en waar ze op bezoek of op vakantie ging. Ook staan in de gids de filmlocaties beschreven van recente series en films.
Voor Janeites, de fanatiekste Austen-fans, is deze reisgids een handig hulpmiddel voor een echte Austen-pelgrimage. Maar ook als je geen hardcore fan bent of 'alleen maar' anglofiel is deze gids voor jou. Maak kennis met het leven en werk van een van Engelands national treasures en laat je de weg wijzen naar de mooiste en verrassendste plekjes in Engeland.
Niet meer in druk